Andromeda Botanic Gardens is owned by the Barbados National Trust and managed by Passiflora Ltd. Mission statement. Passiflora Ltd.'s aim is to provide quality education and training in garden design, horticulture and aspects of ethnobotany. As the company responsible for Andromeda Botanic Gardens, it aims to manage this historic site in accordance with the wishes of Iris Bannochie; its legal obligations to the Barbados National Trust; and to comply with the mandates of authentic botanical institutions. It also aims to ensure Andromeda Botanic Gardens is a fully inclusive community space.
Andromeda Botanic Gardens, Barbados
Bathsheba, St Joseph

248-0190
sharon@andromedabarbados.com​
Open Daily

For

All: 10am (earlier if requested)-4pm (last entrance, stay for as long as you wish) and all bank holidays. Just turn up - booking not required.​ Closed Christmas Day Only. ​
​
Sun 30th April 10am-12noon (8-12 year olds), 1-3pm (13-15 year olds)
​Free Arty Crafty Playshop for Children - for kids from the Bathsheba area
8th April, from 3.30pm.
DANCE IN NATURE
29th March 2023 10am-4pm


Expressive Oil Painting
14th April 5-7pm
An Evening with Dr. Cassandra Quave​​
3rd June 2023. 9am-4pm. One Day Workshop - Plants and Planting Design in Practice
1. Common Plants and Plant Types – trees, shrubs, palms, climbers, herbaceous perennials, annuals.

2. Elements of Planting Design – texture, form and line.

3. Principles of Planting Design – balance, rhythm, focal points, scale and proportion, unity (harmony),

variety (contrast).

4. Colour.

5. Planting Combinations

6. Planting Design in Practice

7. Planting Plans – A Brief Overview.



Do you want to learn how to create stunning planting combinations? This intensive workshop is for you! Join our curator for an informative journey into planting design.
​
Only BD$95pp
workshop@andromedabarbados.com​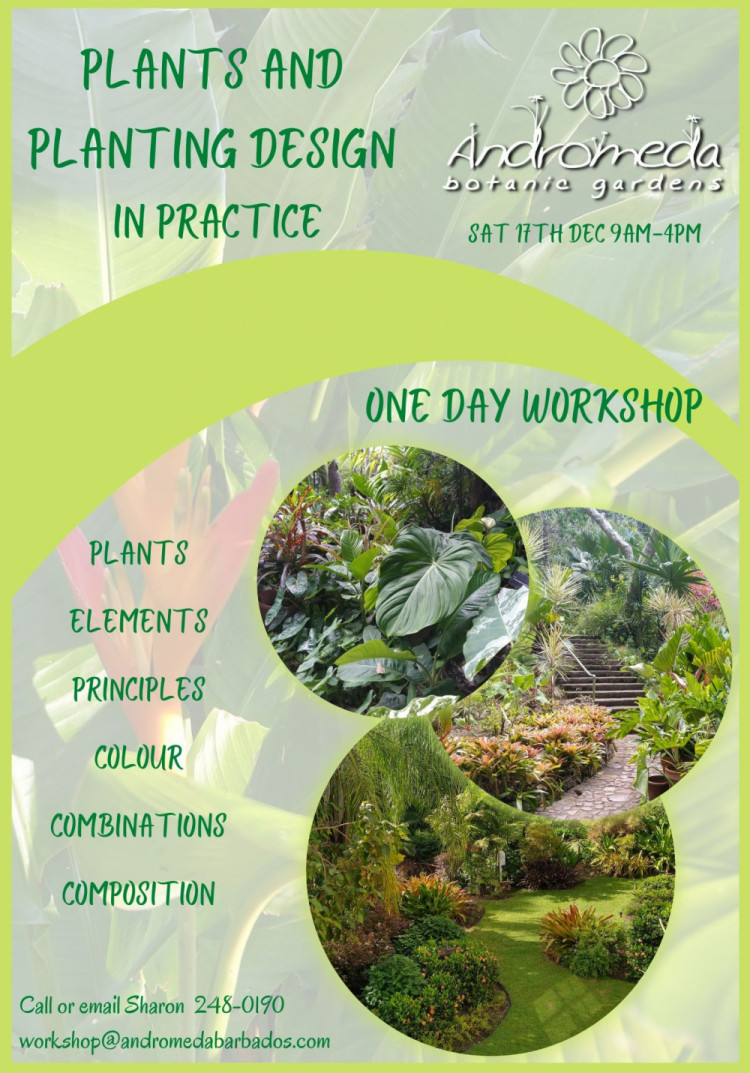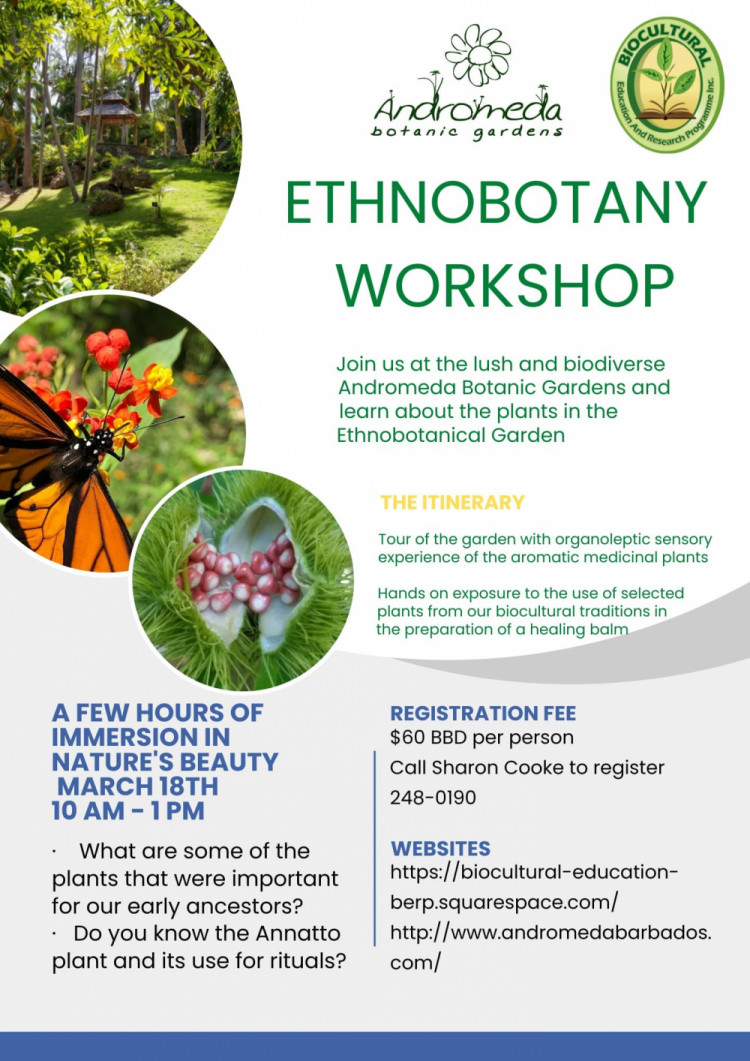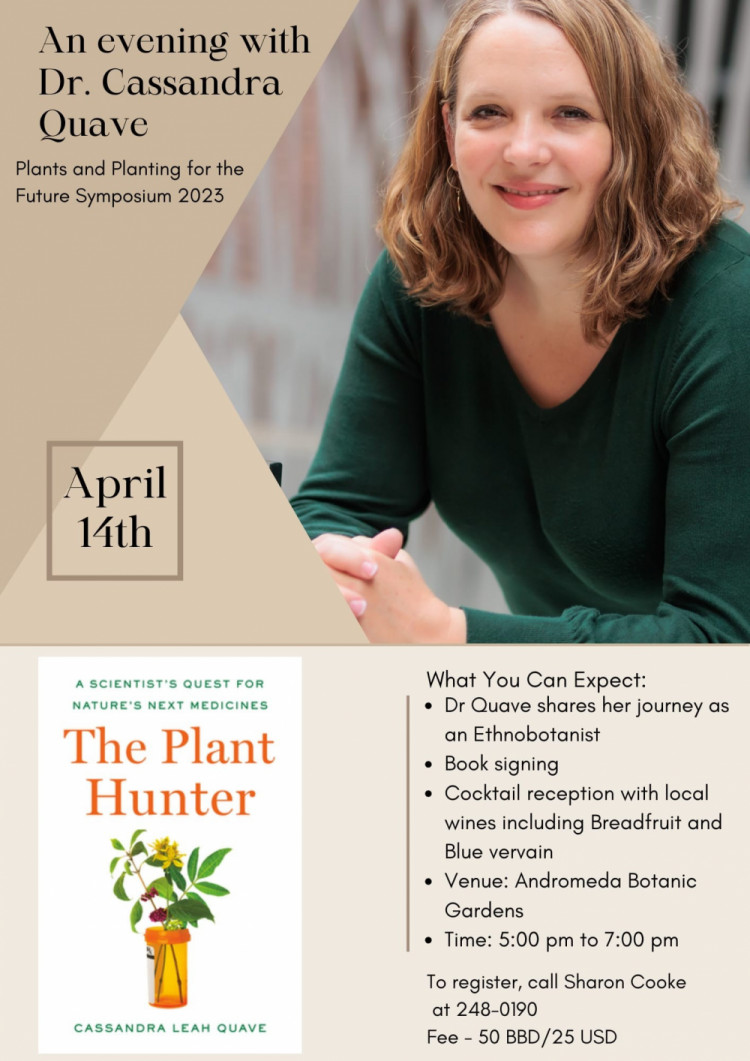 Andromeda Botanic Gardens is privileged to be a part of this symposium. As a botanic garden, Andromeda is a garden of science. During this event there will be plenty of amazing speakers providing insights into their research.

One of these amazing speakers is the incredible Dr Cassandra Quave​ (https://www.cassandraquave.com/) and she has a Wikipedia page!

Join us for 'An evening with Dr. Cassandra Quave.'​​

​​She will be discussing her new book, The Plant Hunter. To quote from wiki 'In this uplifting and adventure-filled memoir, she tells the reader the story of her quest to develop new ways to fight illness and disease through the healing powers of plants.'

This will be an awe-inspiring event with local wines and wonderful discussions.​​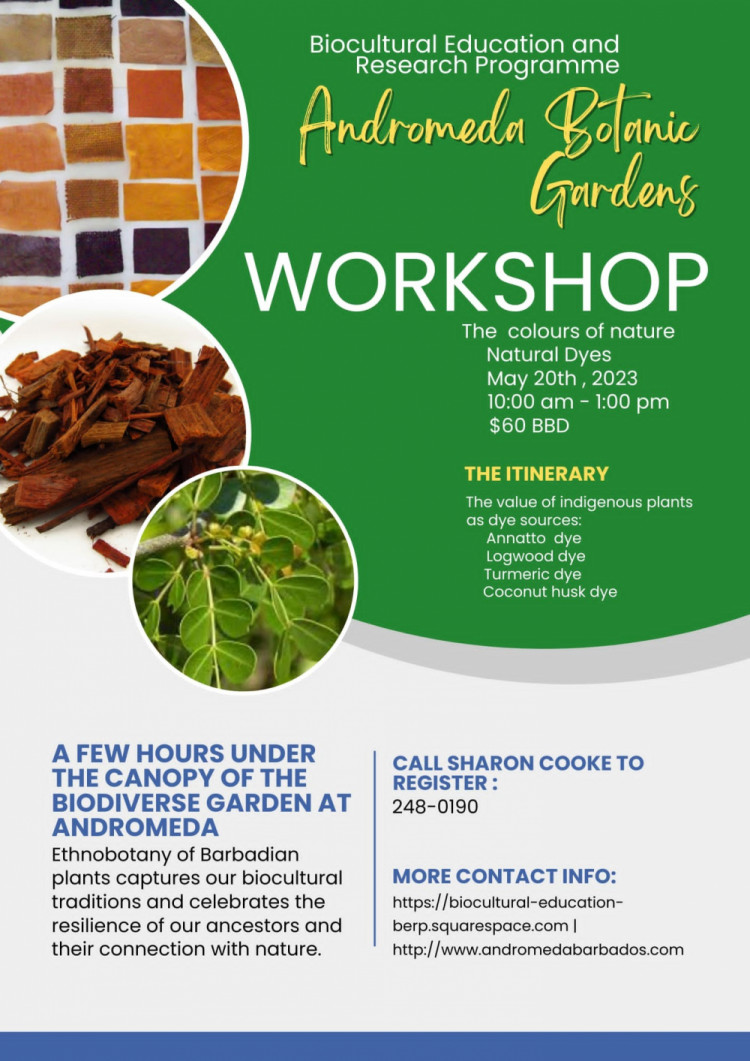 Programme:
🔥Orisha Dance Performance by Mercedes Sayut and Andres Pedroso with live music
🔥Orisha Dance Masterclass with Sayut & Oñiokan, accompanied by Juan Antomarchi at the batá drums
🔥The tea ceremony (courtesy of Confucius Institute Barbados) with Dwain Gill at the violin
11-15th April
Plants and Planting for the Future Symposium​ (BERP)
1st April 9am-1pm


The Magical World of Paper
29th April 9-1pm
Pests and Diseases - Identification & Control
June Date TBC 2023 10am-1pm
​​Ethnobotany Workshop with Dr Sonia Peter
20th May 2023
​The Colours of Nature - Natural Dyes ​​
The Art Hub at Andromeda supports local artists and aims to engage the local community.

The Arty Crafty Playshop is for local children to enjoy. We want to help them to create, to build, to laugh and to learn - all within this special landscape surrounded by nature.

We hope the Art Hub at Andromeda becomes a part of their life and we hope to create a space for a variety of artistic expressions.

If there are particular programmes and events that you think would benefit the immediate local community - send us an email or WhatsApp​​​​ ​​- details are at the top of the page.

Andromeda is building on the amazing legacy of Iris Bannochie. ​We hope to create an inclusive and relevant space for all our communities.​